OUR WINES

Ripasso D.O.C: della Valpolicella 2014
(750 x 12)
From 45% up to 95% Corvina grape variety, up to a maximum of 50% Corvinone
Colour:
Vivid, with an interesting granite profile, good texture and depth, consistent.
Bouquet:
Elegant, complex final perfume. Clear initial perceptions of toasted hazelnut and tobacco notes, followed by attractive red fruit liquor and cherry jam notes; some minutes later the glass perfumes of vanilla and spices.
Flavour:
Excellent entry, a small bit of initial acidity well supported by the structure and final salinity, excellent persistence and flavor. Overall, an important wine characterized by a pleasant taste and great aging potential.

Prosseco Vino spumante CA del Doge
(750 X 12)
from 85% to 100% Glera
Colour:
light straw yellow with greenish reflexes. Very bubbly when poured then maintaining a persistent perlage to the end.
Bouquet:
pleasant, light, fine, delicate, persistent and fruity with a characteristic hint of green and golden apple, followed by floral notes.
Flavour:
this wine is velvety, fresh, lively, fruity, light and fluid with a fine perlage;  it is well-bodied and harmonic, and has very good acidity and alcoholic degree; it is very persistent on the palate and best drunk when young.

Chianti D.O.C.G.
(750 x 12)
100% Sangiovese
Colour:
deep ruby by aging, Chianti Piantaferro reaches an interesting granite profile, very consistent and deep.
Bouquet:
intriguing red fruit and cherry hints, followed by elegant sensations of tea and spices, especially black pepper. The perfume can be defined as warm, complex and elegant.
Flavour:
great start followed by a tannic acid sensation, ending with a pleasant saltiness that leaves the mouth dry; great persistence and excellent aging potential.

Moscato Frizante IGT Veneto
(750 x 12)
100% Moscato
Colour:
a nice level of froth is apparent, a good tone of yellow with delicate notes of green is noticeable. Brilliant and lively in the glass.
Bouquet:
the impact is elegant, delicate, fragrant, clear notes of orange, apricot, peach and rose are perceived.
Flavour:
excellent introduction highlighted by the carefully balanced perlage which incorporates the sensations of sweetness, acidity and salinity.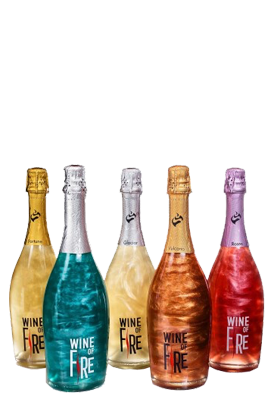 Wine of Fire
(750 x 6)
100% Airen
Colored wine with an attractive flame of color along a slow break down of uniform particles. It has a clean, fresh and fruity aroma, with fine and delicate bubbles. It tastes sweet, pleasant and slightly persistent with balanced acidity.

Angel Sequeiros, Albarino Foudre 2010
Reserva
Winery: Gavineira
Cellar notes:
The wine has natural acidity and natural sugar which is a result of being cold-fermented in stainless steel vats. Once fermented, the grapes are aged on sur lees where the heaviest sediments are removed. Albariño Foudre has been aged in French oak foudre for 11 months. Afterwards the wine matures in 12 months in stainless steel vats without intervention where there is not any malolactic fermentation. Once the wine has been bottled it will rest for six months before selling. The total aging process for this superb wine takes 30 months. 

Reserva Familiar – Tannat 2013
Montes Toscanini
Tasting Note:
Aromas of peanuts and cloves combined with dark fruity scents. Long on the palate, while cloves and other oak-based flavors are in front and center. Resinous oak and leftover nail notes press hard finish.

Tres Puñales – 2016
750ml, Garnacha Tintorera
Tasting Note:
The homage of some children to their father. The magic of unforgettable memories. The feeling towards who gives everything in exchange for nothing. The love to that pixie, who only have the best ones. The memory of a humble past, to make a great future. With the current processes of elaboration and the feeling of the traditions of yesteryear, Tres Puñales is presented as an expressive wine of innate art. Fruity nose, intense palate, long trail and happy memory.